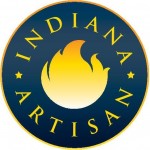 The Indiana Artisan Marketplace will be at the Toyota Expo Hall on the Indiana State Fairgrounds this Saturday and Sunday,April 16th and 17th. Spend a relaxing day hanging out with painters,beekeepers,woodworkers,winemakers,jewelry designers,weavers,specialty cheeses producers,bakers,candle stick makers makers,and other fascinating Indiana Artisans.
If that's not enough,here are a few more reasons to attend:
Savor great local food
Enjoy original art,produced by Hoosier artists
Meet the artists and food artisans who make these great products
Take a well-deserved break after Federal Income Tax Day
Enjoy Indiana music,literary readings,live art and craft demonstrations
We'll be there –and we'll have cheesecake,cookies,and other fresh-baked goodies
Get a $3-off admission coupon (the coupon is at the bottom of the card)
The Marketplace is a great opportunity to enjoy some of the best food and art in the State and support and the Artisans who's' talents contributes to Indiana's reputation for quality work. Be sure to stop by and say hello at booth 110!